The cinema Premiere of the film "Un Tango más" in filmcasino.at

Maria Casán & Pablo Ávila and we are waiting for them to dance a stage Tango before the film to pay tribute to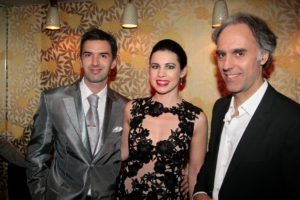 German Kral, Juan Carlos Copes and María Nieves.

… with patience, my daughter, drinks and goodies to eat and drink from Buenos Aires. But then 🙂

the stage Tango, elegant, tragic,
… festive as ever!
We had some sweet little Tangos in the foyer!
Even an autograph of the Director German Kral!